DP Saddlery is the innovative solution to equestrian equipment and accessories. With more than 20 years of experience, DP Saddlery went from a little quaint saddlery in Germany to an international equestrian manufacturer operated in over five countries.
DP Saddlery has dedicated its advanced acquaintance of the German Engineering technologies to produce the highest quality horse saddles. In a sense, they are thrilled to announce that our high-end products combine both: safety, and style.
What makes DP Saddlery outstanding?
1. Natural Leather
The leather DP applies is high-quality vegetable tanned leather, which makes the products sustainably reliable while keeping all the natural features such as creases, scars, curry comb cracks, and neck folds.
2. Ultra-Flex Tree
Many of its saddles are built on Ultra-Flex Tree that made of high-quality Carbon Fiber. Although the tree is flexible, it will not collapse underneath a rider's weight while allowing the horse to move out freely.
3. Velcro Panels
Some of the models are equipped with Velcro Panels, which allow the rider to correct the channel width easily.
4. Adjustable Gullet Width System™
The adjustable gullet system allows the rider to easily widen or narrow the width, ranging from K1-K5 or Size 6 to Size 2 using Sprenger Measuring System.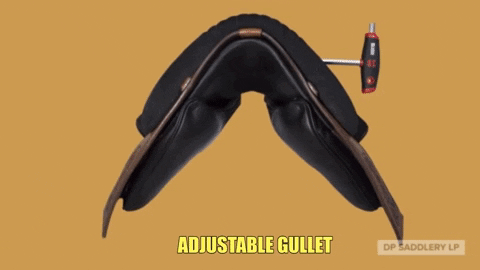 DP Saddlery Product Line:
Baroque Saddle
Baroque Saddle is an English-type saddle that features Ultra-Flex Tree, Velcro Panels, and Adjustable Gullet Width System™. The signature series is El Campo. DP Saddlery El Campo is one of the most popular baroque saddles. El Campo is designed for Allround use, including Dressage, Classical Riding, Eventing, Trail Riding, and Working Equitation. 
Moreover, DP Baroque Saddles also offer El Campo Shorty, a special version designed for Short Back Horses.
By applying softcore inlay and high-quality synthetic wool, baroque saddles are built to last long in a unique way.
To view all the in-stock baroque saddles, please click the link below:
https://saddlecolony.com/collections/dp-saddlery-baroque-saddles
NovaFlex Saddle
The NovaFlex saddle is an English-type saddle designed for working equitation, dressage, and jumping uses.
Built on Ultra-Flex Tree and Adjustable Gullet System™, NoveFlex saddles can be mechanically adjusted to the horse shape without further need to heat interference. The most popular NovaFlex series are Bolero Dressage Deluxe, Libra, and Prado SBL.
See the attached link to view all the in-stock NovaFlex Saddle:
https://saddlecolony.com/collections/dp-saddlery-novaflex-saddles
Quantum Saddle
A Western Saddle on an English Tree! The Quantum saddle is designed for Trail, Endurance, and Hobby Riding. All the Quantum Saddles, except Quantum Sport, are equipped with Western Dressage Seats, which encourage a correct rider seat, with a narrow twist and flatter seats to make longer journeys more comfortable for both: the rider and the horse. Quantum Sport, on the other hand, is a lightweight saddle with a deep padded seat and narrow twist, which provides a comfortable and luxurious riding experience.
To view all the in-stock Quantum Saddle, please click the link below:
https://saddlecolony.com/collections/dp-saddlery-quantum-saddles
Startrekk Saddle
Startrekk saddles are treeless saddles. They offer the closest experience to the act of equestrianism. They bring you as close as possible to the body of the horse. Still, your weight –as a rider- is equally distributed on the horse back to ensure you do not cause any harm or burden to your horse. 
Check out the link below to see more Startrekk Saddle:
https://saddlecolony.com/collections/dp-saddlery-startrekk-saddles
Western Saddle
There are two types of Western Saddles: Performance and Flex-Fit.  The Performance Saddle inherits all the traditional and classic Western saddle's features. The Flex-Fit, on the other hand, captures the traditional features and adding the Flex-Fit Tree and the Adjustable Gullet System™ to ensure the fitment.
To learn more about Western Saddle, please click the link below: